All Our Exercise Classes are taken by qualified physiotherapists with experience, and training in the respective areas.
Our classes are run with small numbers; this allows us to tailor the programs to your needs, providing each person with relevant guidance and the individual attention required to help you reach your goals.
We recommend wearing comfortable clothing and comfortable closed in shoes for our classes, and comfortable swimwear for hydrotherapy. Change room and shower facilities available at swimming pool for hydrotherapy. Please bring your own water bottle.
Based out of Castlemaine Fitness at 23 Lyttleton St, we have been offering small group hydrotherapy for the past several years. Hydrotherapy is water based exercise, done in a heated pool. The heat and buoyancy of the water helps to unload painful joints, allowing movement that is often not achievable on land, in a safe environment. The pool also features a hydraulic chair lift for those unable to use the stairs to get in and out of the pool.
Hydrotherapy can be used to target a variety of issues and is commonly used in in;
Post-surgical rehabilitation of all types, including joint replacements, rotator cuff repair and most Musculo-skeletal surgeries.
Improving balance
Improving general strength, fitness, and conditioning
Chronic back pain rehabilitation and management
Maintaining mobility.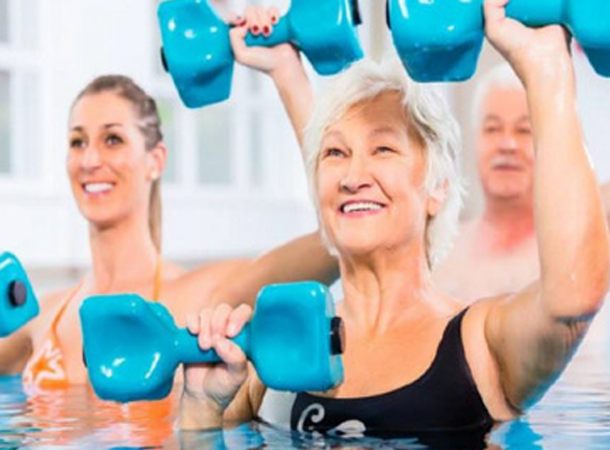 The GLA:D program is a hip and knee arthritis program, originating in Denmark but researched and implemented around the world.
GLAD stands for Good Life with osteoArthritis; Denmark. The program focuses on two main areas, exercise, and education. Specific exercises are targeted for those with hip and knee arthritis, and the education component is focused on managing and understanding your condition.
Research from the program completed in Australia shows an average pain reduction of 36%, reduced painkiller use, and a potential reduction in the need for, or a delaying of, surgeries, such as joint replacement.
Our strength training classes focus on building functional, full body strength, designed to help with your day to day life. The exercises are tailored by our physiotherapists, with options to suit all levels of fitness and mobility, and to work with any physical issues you may have.
Maintaining and improving our strength, has many benefits, beyond just the strength itself. Research shows that strength training;
Improves balance and reduces falls risk
Increases bone density, reducing risk of, or effects of osteopaenia and osteoporosis.
Improved flexibility and mobility
Decreased risk of diabetes, cardiovascular disease and blood pressure problems.